Stewardship Letter 2022/23 Our verse for the year, Isaiah 54:2
"Enlarge the place of your tent,
stretch your tent curtains wide,
do not hold back;
lengthen your cords, strengthen your stakes."

All Saints Church in the Parish of Northwest Swindon and Lydiard Millicent
Tithing is a tangible way of showing God that you're all in and you trust him. Corinthians 9:6-12 assures us that when we give, we will have all we need and will have plenty left over to share with others. Giving encourages a grateful generous spirit within us and steers us away from dependence on money and selfishness. God always blesses the giver and multiplies the gift. You cannot out-give God.
Thank you for all you do in your giving.
All Saints has endured through centuries of generous giving by faithful Christians and you are now being asked to be part of this constant heritage. A regular, reliable income will allow us to plan out delivering our vision. . Could you please think of giving systematically, prayerfully, and generously, especially if you have not thought of this before? Thank you if you already give to the Church.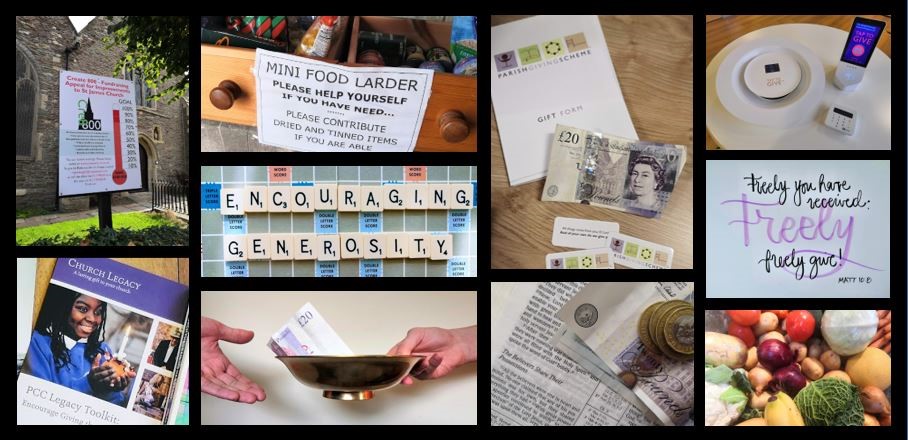 At All Saints every week Bells get rung, people study the Bible together, and Men gather for a monthly Men's Bible study and breakfast The Standing Committee and PCC and Reordering Group meet to plan things for the Church, worship happens, and people are taught through preaching and teaching. Baptisms, weddings, and funerals take place and are a way of meeting people at times of joy and sadness. You add to the list! God's Church is alive.
For the year 2022, our budgeted total income is over £66,000 and our expenditure is projected to be over £70,000. That means that with a membership list of just over 80 people each of us need to look at setting aside about £80 a month or £20 per week. Clearly, some earn more than others, some are struggling greatly. Together God calls each of us to be generous and look expectantly to God to provide for all of our needs
During the past year, we've had some great opportunities to connect with local schools. I want to highlight this as just some of the work our church is doing to live out our vision.
Derek Hill and I meet monthly (as Foundation Governors) with the school board for Lydiard Millicent (LM) and Ridgeway Farm (RF) Church of England Academy primary schools.
Collective worship and school assemblies are delivered in Peatmoor Community School along with the above two primary schools. The Open the Book (OTB) team led by Heather Benn (in conjunction with Shaw church) delivered key bible stories to schools via YouTube. I am delighted to have joined the team and am involved with assemblies at Peatmoor School. We are now booked to do OTB assemblies at Peatmoor School in person with a full team which is wonderful. We often use the church for rehearsals.
School assemblies via Zoom and in person have been delivered from the start of the new academic year in all three schools: each week in LM and RF Schools and 3 assemblies per term at Peatmoor Community Primary School.
Religious Education lessons take place at RF and LM schools which involves going into classes and doing sessions on what is Easter ?, what is Christmas ?, why did Jesus have to die ?, why do Christians meet on Good Friday ?, etc. A lot of these sessions are tied in with the teaching of Understanding Christianity the Church of England schools syllabus for teaching Christianity in Schools. I went into RF and LM schools for six successive weeks before Christmas to help with the Bristol Schools Project Christmas in a box working with mainly year 3 and year 4 classes.
This term a year 2 class from LM school came to church for an Easter RE session and the school worship committee came to look at the Reordering plans with Nicky Iddon and I.
We want to do more. This Church year we will be appointing a new 'Church and Schools Children's Worker. We will also be moving towards the complete reordering of All Saints Church, and seeking to reignite our outreach to the community. We are committed to making our beautiful, ancient building accessible, hospitable and flexible so it can be used in all sorts of creative ways for God's mission and provide a community hub at the heart of the surrounding area. We want to see poorer parishes across the Diocese equipped encouraged and enabled. For a long time, Free Churches have known that what they give equals what they get in ministry. The Church of England is now making money available for missional projects, recognising that semi-rural churches like All Saints need investment into ventures that will see the Church grow.
Jesus talked more about money than he did about …. well almost anything else (other than God). We now have a wonderful Link Mission couple Daniel and Sarah Brito Medeiros who are in Brazil with CMS. Generosity and giving needn't be arduous it can be fun and can involve us tapping into God's worldwide spread of the Gospel.
As we give generously (in accordance with what we have) I believe God calls us to greatness reflecting some of the hints of God's majesty we heard about in our series on Revelation. God has done great things for All Saints; we see that in some of our services, in our growing evangelism, in our desire to see children's work resourced and grow, we see that in lives changed by God, by his healing power and as we gather and as we go out.
Response
If you can tell us how much you can give for the coming year it helps Tina, our Treasurer to know how to budget effectively. Giving however small your gift regularly relay helps you, as it becomes part of your discipleship in Christ, and it helps the Church
Tina allocates money to buildings work, to children's and youth work, to the expenses of the Vicar, such as transport, telephone, and admin resources, and help with training as well as lots of other areas. We also (in a normal year) give about £8,000 to other organizations which we help to support.
Please use the response form below to tell us how much you can give this year. It really helps if you send back a response in even if you are not changing how much you might be giving.
Something you may not have thought of, whatever your age, is including All Saints in your Will. If this interests you, we can help you. Please do not go ahead with this without consultation. Where Will gifts are made openly, and with the widest of possible uses left to the recipient, great things can happen through people's generosity.
Thank you as you consider how much you can give this year. On Sundays 4th and 11th of September, I will preach and teach about giving. Do come! The quicker you respond, the easier we can respond to the Diocese and plan our mission effectively. Thank you again.
Tudor.
Revd Tudor Roberts, Vicar.
01793 772417 or 07880 611337 www.allsaints-online.org.uk
Please fill in the response form here and return to Mrs Tina Wheeler, Treasurer, 49 Chestnut Springs, Lydiard Millicent, SN5 3NB no later than 30 September.
or Email tina.w.asc@gmail.com giving details of your commitment.