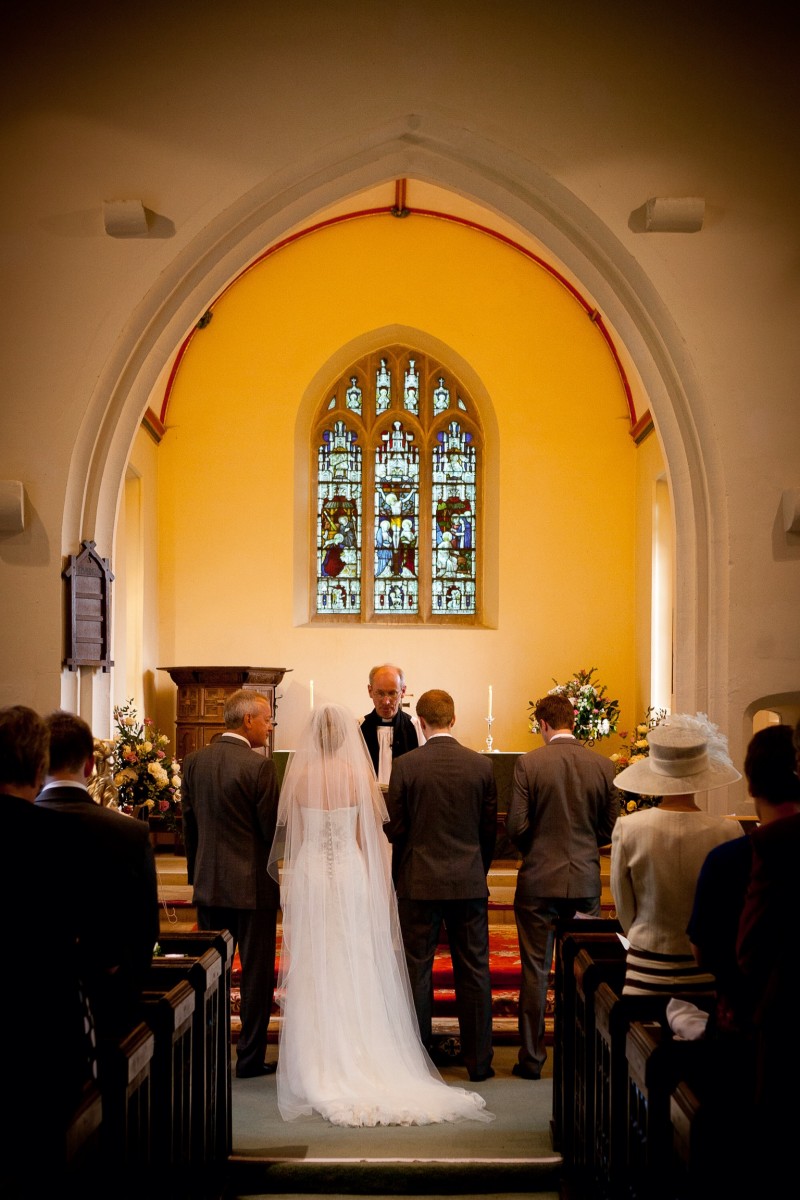 "There was a lovely intimate and laid back atmosphere during the ceremony. The church was beautiful and all our guests thoroughly enjoyed the service." (a recent wedding couple)
"On the third day a wedding took place at Cana in Galilee. Jesus' mother was there, and Jesus and his disciples had also been invited to the wedding" Saint John's Gospel 2: 1-2
All Saints Lydiard Millicent makes for an ideal spiritual and beautiful wedding setting and can seat up to 150 people. As you can see from the photo All Saints has the advantage of a lot of space at the front of Church for the ceremony. Your photos both official and on Snapchat, Instagram, Facebook etc will look great.Inside and out it's a unique backdrop. Why go elsewhere. Couples say it makes their day.
Couples who want to celebrate their wedding at All Saints are very welcome. To find out more, please explore this page, come to Church on a Sunday and contact the Vicar to make an appointment.
2021 Update - We are welcoming bookings for weddings at our church. For more deatils, please contact Revd Tudor Roberts.
Email tudor.roberts.aslm@gmail.com its so easy to get in touch.
As from 1 October 2008 the Church of England Marriage Measure states that a person may be married at All Saints if they were baptised in this parish; or had his/her confirmation entered in the church register book; or has at any time had his/her usual place of residence in the parish for at least six months; or has at any time habitually attended public worship at All Saints for at least six months; or if your parent has at any time during your lifetime had his/her usual place of residence in the parish for at least six months; or has habitually attended public worship for at least six months; or if one of your parents or grandparents was married in this parish.
Friendly and informative meetings are undertaken well in advance of the proposed wedding day and marriage preparation sessions are held to assist in all the essential planning. Your banns of marriage will be read on three consecutive Sundays at least 2 months before your wedding day.
Just prior to the special day, a full rehearsal is held in church and every encouragement is given to couples to make sure that their Order of Service is appropriate for their needs (family and friends being welcome to contribute in different ways with readings and music etc.)
If not already attending the church, we encourage our wedding couples to come to the church in the weeks and months preceding the wedding so that we can get to know you and pray for you. Hopefully you will want to continue coming. We also do a full marriage preparation weekend usually in February to help you in your future lives together. Please do contact us early to book your wedding as places can go quickly, though we can normally fit you in with notice.
Please note even if you live outside the parish, there are still possibilities for you to be married at All Saints. Please speak with us or drop into the church to have a look. Open each day 9.00am until 3.30pm
Wedding service times are 12.00pm, and 3.00pm, generally weddings are on a Friday or Saturday, but we can adapt to your circumstances. With the School and Vicarage there is now suffcient parking. Plus, we have an accessible toilet, and its ready and open for all who come to our Church.
Parking: It is recommended that you book the Parish Hall so you can use its car parking facilities opposite the church for your wedding (Welcome to Lydiard Millicent Parish Hall - Lydiard Millicent Parish Hall) because the Parish Hall is a separate entity to the church. If the car park is full or unavailable, please park at the Vicarage, The Butts, SN5 3LR. Please be considerate to our neigbours and not block access to their homes.
For more information tudor.roberts.aslm@gmail.com
also follow this link to Church of England weddings https://www.yourchurchwedding.org/