Palm Sunday Sermon Matthew 21:1-11, Psalm 118 and Isaiah 50 :4-9, April 2020.
Are we there yet? That was our question as children when we drove from Essex to Cardiff via the old Marlborough road or to Normandy France via Portsmouth and Cherbourg. Many are asking are we there yet? Has this awful disease peaked yet? The answer of course is that nobody knows, and as I write it seems to be getting worse, at least in Europe and the USA.
Jesus's disciples had been on the road with him on and off for about three years with little respite or any sense they were on the winning side. The mental strain of always having to keep quiet about Jesus's true identity must have been hard too. Then comes the entry into Jerusalem via Bethphage and at least for a moment there is the opportunity to shout and sing.
Nobody likes sickness and death. All this news about illness and death is terrible especially for those at its vortex, the patients, the families, the medical staff. I have never believed Christianity is escapism, but it should allow us to refocus to pause and worship and to get an eternal perspective on our lives. Certainly, we will need an input of joy if we are to be ready to minister in terrible circumstances. Creation helps: the joys of spring remind us of God's creation, the birds are singing, plants are pushing their way through the earth, even the night sky has been wonderful. We were made by God to respond to his handiwork and now more than ever we need such moments. The rhythm of lament and praise in the Psalms help us in this.
For once the Jewish leaders and the Roman government are not calling the shots in this first Palm Sunday drama, Jesus is in charge. I don't know about you, but I like to know I have a summer holiday booked. This year all such plans are on hold and anyway it seems wrong to be concerned about such things. Yet Jesus did plan things and his Father did too. Here in Matthew 21 we see the prophecy of Zechariah 9.9 fulfilled Jesus walks into Jerusalem on a donkey, on a colt that has never been ridden. This was not just a sign of humility this was a royal action, and a messianic action and those that knew knew what Jesus was saying and it worried them.in Matthew 21:10 it says the whole city was stirred the word is akin to an earthquake the word is "eseisthe" a Greek word used to describe the effect of a strong earthquake. This was no quiet entry you sort of want to compose a rap song about it; this Jesus is Cool, he is no shy dude, he knows his identity, he knows his purpose and above all I think he loves his people and wants to encourage them. One day we know he will return in glory (see Revelation 1 and 2 Thessalonians 1:10-12), no quiet birth in Bethlehem, his appearance will fill the sky (Mark 13:26-27) for now he is content to come in sat on clothing, sat on a colt (never ridden before and yet calm with Jesus) and to receive the shouts and singing that Hosanna! the Son of David comes.
Yes, we should weep with those who weep, we should cry at the pain being seen on our screens but don't forget Joy. Christianity flourishes when suffering is trying to crush the Church, and the truth is today everyone is suffering every race, every faith group, every people, and we can but point people to our King, on his way to suffering on his way to the Cross he took a scene break, he entered into Jerusalem in an atmosphere of full on joy. Somehow as Christians we are called to weave into our daily lives some elements of joy. I think like many in the UK we have been eating a lot of pasta! well make sure you have as much joy as you have pasta. In Psalm 118 there are these wonderful verses starting at verse 13
"I was pushed hard, so that I was falling but the Lord helped me. The Lord is my strength and my song, he has become my salvation. Glad songs of salvation are in the tents of the righteous. The right hand of the Lord does valiantly right hand of the Lord exalts, the right hand of the Lord does valiantly. I shall not die, but I shall live and recount the deeds of the Lord" Psalm 118:13-17
I love Palm Sunday, it is that opportunity before Holy Week to have a really good sing, to rejoice, maybe to parade a bit with palm leaves and a donkey if you can find one (we did one year #!) so maybe this year in the midst of all that is going on turn your phone and I pad and TV off, and sing a hymn unto God and to yourself, sing with Joy.(if you are in great sadness then do the opposite i.e. the Jewish practice of lament of course) read on in Psalm 118 and your see how it ends in the words of praise that were sung as the events of Matthew 21 unfolded and the praise went on in the Temple and who was praising ?The Children of course, unbothered by adult's criticism they sung their hearts out to Jesus and as he entered his torture and death days later, those children's praises. I am sure, helped Jesus of Nazareth to endure the taunts of the Soldiers and Jewish guards.
Note too that in Isaiah 50 are precious promises, The Lord says Isaiah in 50:4 "has given me the tongue of those who are taught that I may know how to sustain with a word him who is weary" were these words of Isaiah ringing in Jesus ears as he approached the end of his 3 years of earthly ministry, I like to think they were, we know that Jesus quoted the Psalms, Isaiah, Deuteronomy, and Jeremiah more than any other Biblical books, I am sure he mediated often on the words in these books. I was feeling low this week as I am sure many of you have been, wearied by the relentless bad news and I came across this verse in Jeremiah in chapter 31 vs 25
"For I will satisfy the weary soul, and every languishing soul I will replenish" Jer.31.25
All of us may be wearied by the events of the world at the moment but isn't the word of God balm to the soul ? isn't Gods word the word that meets our deepest need.?
As we enter Holy Week in one of the darkest hours of the Nation's history may the story in Matthew 21, the scriptures in Isaiah 50 and Palm 118 encourage you, strengthen you, challenge you and heal you. One day as someone said "these things shall pass" and all of us know deep down anyway that our destination is on a further shore, another country but in the meantime on this earth we have work to do and this Palm Sunday may you know God's strength, God's Joy,and stop and sing praises as you are able to Jesus our Lord, our victorious Saviour and Redeemer.
Are we there yet? well no not yet, but as Christians we are to be ready at any moment to face our Judge and Saviour and you and I can only do that if we stick close even in exile to Jesus and his Bride the Church .So let's encourage one another, pray for one another and where possible serve one another in the humility of Jesus of Nazareth.
Let us pray; Dear Jesus,please bring peace in the World ...Lead us Lord from death to life,from falsehood to truth.Lead us from depair to hope,from fear to trust.Lead us from hate to love,from war to peace.Let peace fill our heart,our world our universe .Amen. a prayer of Satish Kumar for the World Disarmanent Campaign 1981
Tudor Roberts April 1st, 2020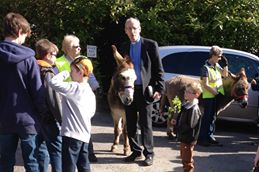 #